Just stepped out from a warm Lush bath and wrapped myself with soft blanket, still surrounded by the scent of honey and lavande, I share with you, my favourite Christmas edition treats: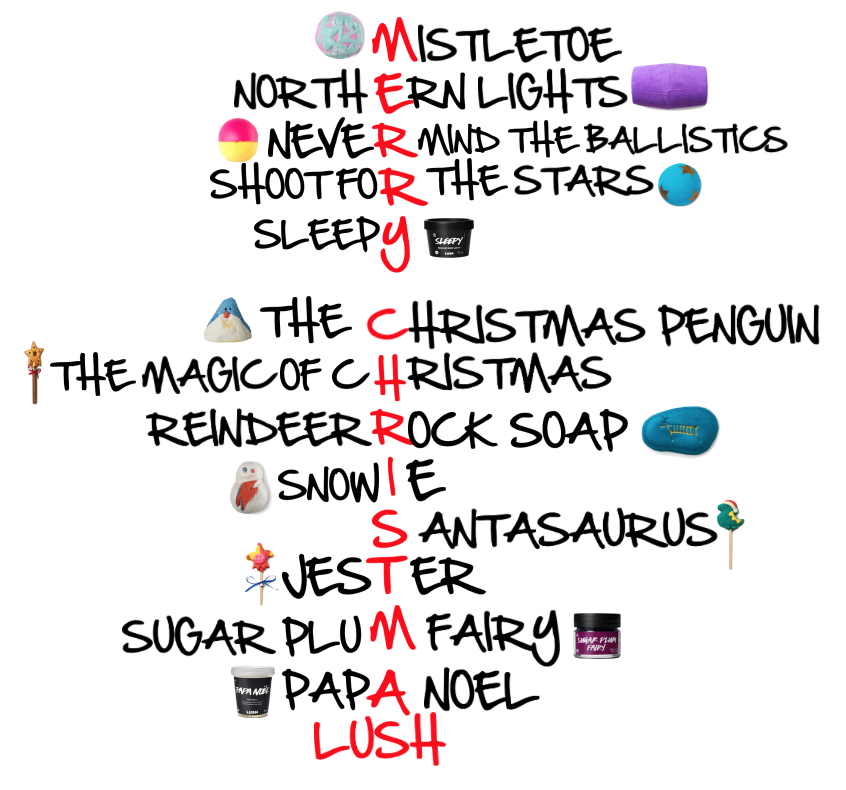 Bath bombs:
Mistletoe: deep yourself in purple waters and inhale the gentle scent of jasmine fields
Northern lights:  watch the northern lights fizzing in your bath and enjoy the fragrance of ylangylang&jasmine, perfect for relaxation
Never mind the ballistics: for those who miss summer, this fruity colorful bath bomb, will bring you back to the beach, while it`s snowing outside; making your skin super soft.
Shoot for the stars: this wonderful, moisturizing blue bath with some gold sparkle, made of cocoa butter, has a sweet caramel honey scent. Love it!
Bubble bars:
The Christmas Penguin: will make your water bubbly and blue while enjoying the scent of sicilian lemon,  mandarin & sweet bergamot
The magic of Christmas: orange, cinnamon, clove and anise… do I need to say more? The perfect bath before Christmas dinner.
Snowie: fill your bathtub with snowy bubbles and relax in the fragrance of rose oil
Santasaurus: let your kids have fun in the honey scented bubbles of this colorful dino
Jester: what a lovely, refreshing citrus bath with jingly bubbles & orange coloured water.
Lotion:
Sleepy: I adore the lavender scented, pampering, lotion made of cocoa butter and almond oil.  So silky, so gentle and it smells amazing.
Soap:
Reindeer Rock: made of coconut oil, lingonberry & rose oil, this soap will nourish and soften your dry hands during winter.
Face&lips:
Sugar Plum Fairy: the blackcurrant flavoured lip scrub made of caster sugar will make your lips so soft. And the best part:  you can lick of the excess, it`s yummy!
Papa Noel: a great face cleanser with jojoba, seaweed and citrus oils. It will leave your skin so smooth and soft
Why not stop over at Lush while looking for  Christmas gifts at downtown and put some of these glorious limited edition treats under the Christmas tree?
Find the closest store to you here. Or if you live around Luxembourg you will find a cute store, with an enthusiast team, in the city centre at 60 Grand-Rue.
Happy Holidays & enjoy your Lush bath!
Bis,
Betty