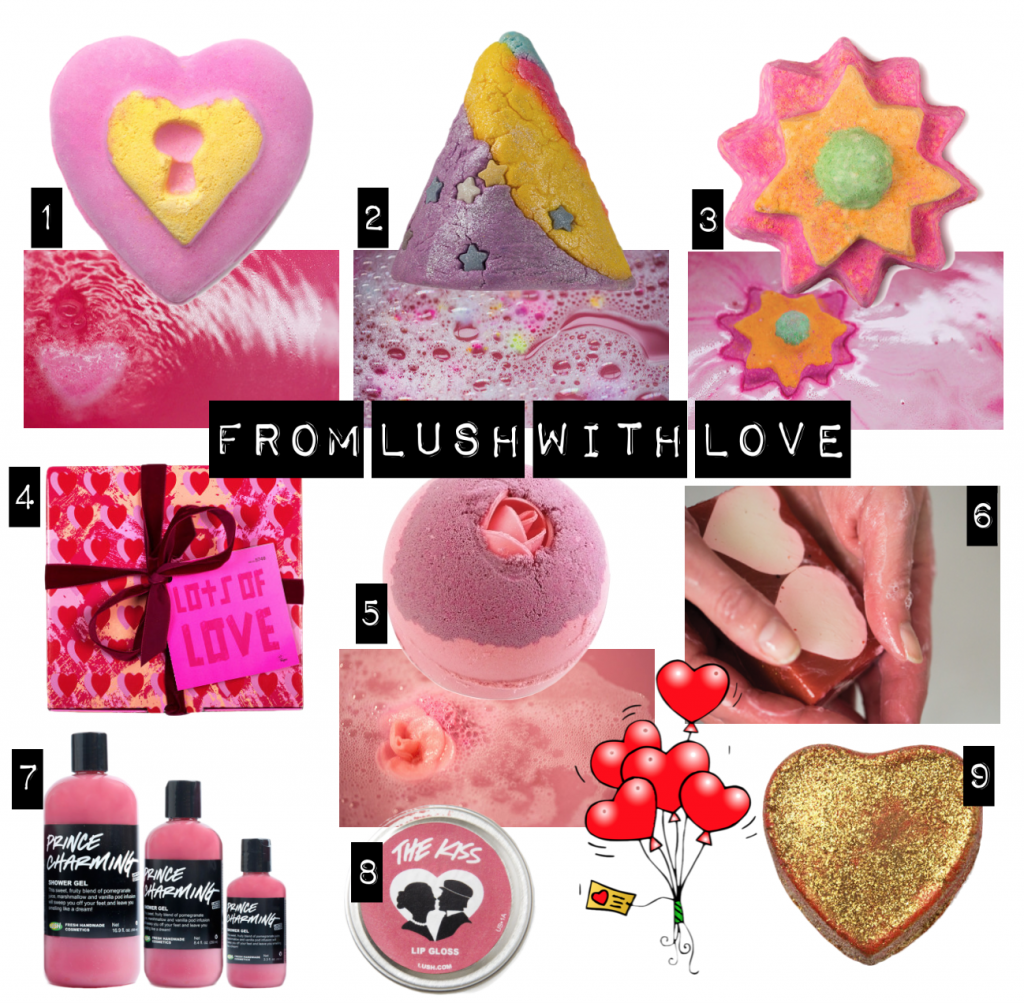 Look at this  wonderful LUSH collection for Valentine`s Day!
Isn`t it a good idea to surprise your love with a bath bomb and have a warming bath after your dinner?
Here is a small review, hope it can help you choose!
For a lovely bath:
1, Love Locket:  this bath bomb has a lovely scent, your bath will smell of vanilla, jasmine and neroli. You can break this heart with no mercy! There is a hidden small heart embedded in the big one, it is  perfect for a bath for two.
2, Unicorn  Horn: this bubble bar is perfect for a relaxing bath as it contains  lavander, ylang yang and neroli essential oils. There will be a lot of bubbles!
3, Floating Flower: It is beautiful how this bath bomb melts in the water leaving behind  it`s strong colors and scent of jasmine, ylang ylang and cypress oil.
5, Sex Bomb: there is nothing better than coming back from a busy day and throwing this bath bomb in your water. The combination of  jasmine,  clary sage and yang yang essential oils will help to clear your mind and relax. It is a perfect gift for hard workers.
9, Lonely Heart: the water will turn into red & glittery when you drop this bubble bar in your bath leaving behind a lot of bubbles and a wonderful scent of bergamot, rose and lemongrass oil.
Getting ready for the date?
Use these products & you will seduce your prince for sure!
6, Cupid`s Love: this soap will make your hand so soft that your sweetheart will want to hold it forever! I love it`s scent so much, it`s a mixture of rosewood, bergamot oil, passion fruit, figs and soya yogurt. It is my favourite soap!
7, Prince Charming: have a shower with this shower gel before meeting your prince and you will see the effect yourself! It contains vanilla, marshmallow root, pomegranate juice that makes your skin silky and soft while grapefruit, sandalwood and geranium oils give it a wonderful sweet smell.
8, The Kiss: apply this lip gloss before the date and your lips will be ready for the kiss. It is moisturising and makes your lips mildly pink and gently shiny. I love the soft and silky texture, it contains shea and cupucau butter, guarana seed powder, mandarin and almond oil.
Would you like to surprise your love with a lot of lovely LUSH products?
4, Lots of Love: gift box might be the right choice! It contains most of the above listed products: prince charming shower gel, cupid`s love soap, sex bomb & love locket bath bomb, lonely heart & heart throb bubble bar and pearl massage bar
I hope this post offers you some Valentine`s Day gift ideas.
Enjoy your bath!
Bis,
Betty